Church Documents
Most FUUSE Documents — like minutes of meetings, annual reports, building renovation plans, policies and procedures, user manuals for equipment, and much more — are stored in our Elvanto church management system. Access to some of these documents may require you to log in to Elvanto first. If you are an active congregant at FUUSE and do not yet have a login, send an email to <webmaster@exeteruu.org> and ask for a password and access to Elvanto. Or click here to log into Elvanto now, in another window.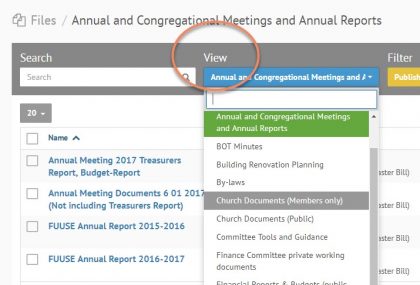 Documents stored in Elvanto are organized into folders in the "Admin Area," under "Files." Click anywhere within this sentence to go to the Elvanto member Admin Area, and into the Files menu choice. You may be asked to log in to Elvanto on the way. (Check the "remember me" box so that you won't have to log in every time.)
Some of the documents there are visible to you only after you have logged in with your FUUSE Elvanto user name and password. Some may not be visible to you at all, for example if they are working drafts that are "locked down" to members of a certain committee.
Once you are in the "Files" area, use the "View" drop-down to narrow the list of files down to those in a particular folder or category.
Or, alternatively, if you know the name of a document you are seeking, begin typing some part of the name of the document in the white box under the word "Search." All documents matching your search will show up.